www.davidskinner.net



Jazzombies

... swing will never die...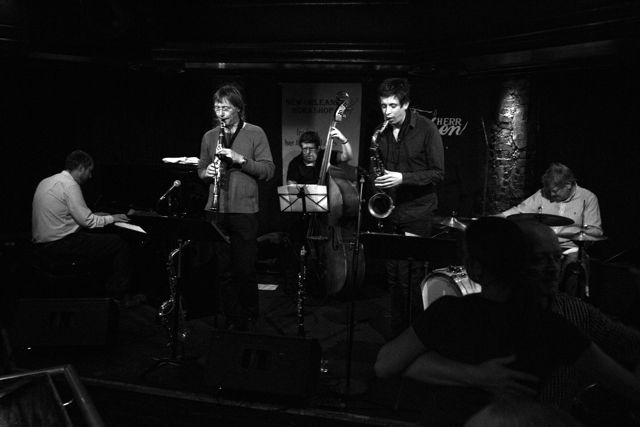 Download large version (2.2MB) - Photo Christer Bell



Jazzombies is David Skinner's swing ensemble, with a lineup featuring some of the best swing musicians in Oslo.

Georg Reiss - clarinet, alto sax
Lars Frank - clarinet, tenor sax
David Skinner - piano
Børre Frydenlund - guitar, vocals
Svein Aarbostad - double bass
Bjørn Olufsen - drums


The band plays classic jazz tunes, by Benny Goodman, Fats Waller, Duke Ellington, Nat King Cole, and George Gershwin, as well as originals by David Skinner. The size of the group varies from a quintet to an octet. We often have special guests joining us, such as trumpet players Erik Eilertsen and Anders Bjørnstad, vocalist Majken Christiansen, and trombonist Kristoffer Kompen. In addition to jazzclub gigs and festivals, Jazzombies have played for various swingdance events since 2012, in Bergen for The Cottontails, and in Oslo at Scandinavian Shuffle, Winter Jump, and various other dance events, mainly in collaboration with Bårdar Swing Club.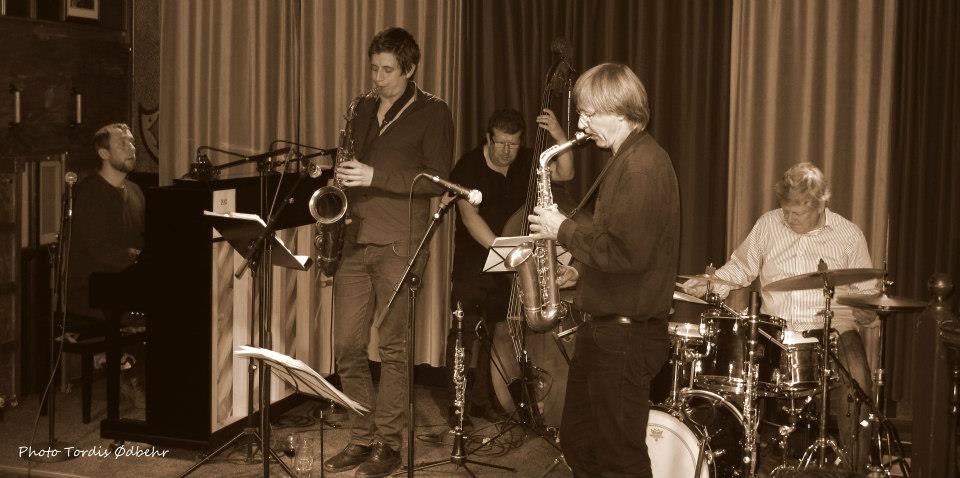 Jazzombies playing Asker Jazz Club
In the following tracks, from a concert at Herr Nilsen, Oslo in November 2015, Anders Bjørnstad on trumpet replaces Georg Reiss.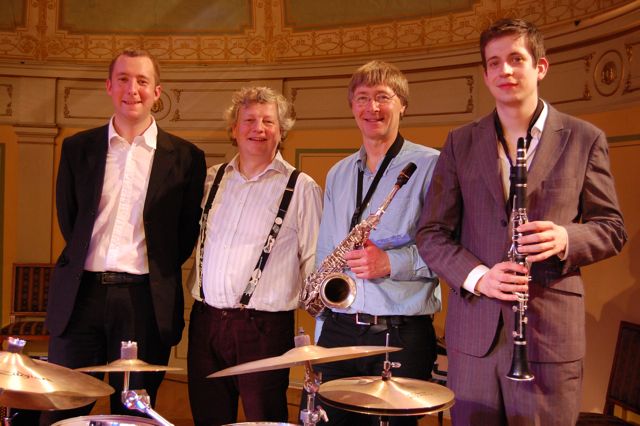 Some of the Jazzombies at Gamle Logen, Oslo: David, Bjørn, Georg and Lars
Here's some highlights from swing dance events:
Norsk
JAZZOMBIES er David Skinners swing ensemble, med swingmusikk fra 30-tallet - og noen musikalske overraskelser. Gruppen spiller klassiske jazzlåter av blant annet Benny Goodman, Earl Hines og Nat King Cole. Jazzombies spiller også på flere swingdans-eventer i Oslo-regionen. Musikerne som spiller i gruppen er kjent fra en rekke andre besetninger, bl.a. Christiania 12, Ophelia, Jazzin' Babies, m.fl.
Lars Frank: saksofon og klarinett
Georg Reiss: klarinett og saksofon
David Skinner: piano
Børre Frydenlund : gitar og vokal
Svein Aarbostad: bass
Bjørn Olufsen: trommer

You can also check out the related Fats Waller Project. We play our arrangements of the music of the late great Fats.